Built for Speed and High Efficiency
The Finest Air Powered Drawbar in the Industry
Speedy Air Power Draw Bar is a Pneumatic Air Powered Auto Drawbar That Fits Manual Mills/Milling Machines
SERVO POWER DRAWBAR
For Variable Speed and Step Pulley Type Milling Machines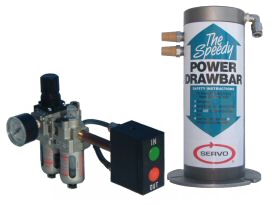 Our Drawbars Come Complete with regulator, gauge, filter, lubricator, drawbar, mounting hardware, operators manual, and parts lists
Super Fast Four second tool change
Easy installation and operation, no special tools needed
Push button control
Uses standard shop air supply
Eliminates excessive downtime
Increases productivity
Ends collet sticking
No special collets or tool holders needed
Provides uniform tightening of collets
Four second tool change
Easy installation and operation, no special tools needed
Deluxe Push button ON/OFF control unit
Uses standard shop air supply PSI
Eliminates excessive downtime
Reduces Operator Collet Changing Fatigue
Maximizes Shop Effiency plus Increases productivity
Ends collet sticking and helps prolong Collet or Toolholder life
No special collets or tool holders needed
Provides uniform tightening of collets
Factory Supported Limited Warranty
COMPARE OUR 100% USA MADE with Our Superior Quality, performance, manufacturing features and LOW COST!
The Speedy Air Power Draw Bar is Factory Designed to only take a few minutes to install and learn to operate. It's fast and easy. No special tool are required to install this power drawbar. It come complete with a limited warranty and is proudly made in the USA!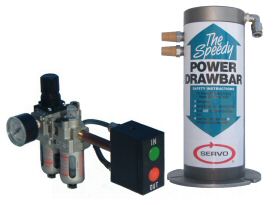 Note: When placing your order for the Speedy Air Power Draw Bar , please be sure to specify the make and model of your milling machine R8 spindle, or select 30 or 40 tapered collet.